This ad won't stop running in L.A. Its creators are implying either that Poizner is so stupid he accidentally donated money to the wrong candidate or that to ever support any politician not of your party is grounds for immediate dismissal and ridicule.
I know nothing about Steve Poizner or Meg Whitman or Californian politics in general but this ad is so stupid it makes me want to vote for Poizner straight away. Beyond how insulting this reasoning is, even the most depraved teabaggers can't have already forgotten who the alternative was.
I actually met the man once; I was seven. I am exaggerating, but not joking. When the Jackson clan moved to Los Angeles, Michael briefly attended my elementary school. Years later, in possibly the most surreal episode of my life, it was arranged for our auditorium to be dedicated in his honor.
But more on that in a bit.
I was never honestly that much of a fan. I think I was a little too young to appreciate him at his peak. Sure, I remember Thriller, hell I remember being genuinely freaked out by it, but I didn't really get into music until my teens, and say what you will about the impact of his career, it was pretty much over by 1994.
My cousin, on the other hand, was an admirer. At four years my elder, she was the perfect age to idolize and lionize throughout my entire childhood. Everything she did seemed so exotic and grown up and dangerous. She was also big into New Kids on the Block, so maybe I should've known better.
Regardless, that was my initial window into the King of Pop. Well, that and my Genesis. This was all I knew about him in the second grade: that he was more famous than the President and that all the cool kids liked him.
And so, it came to be that on October 11, 1989, I had my only skirt with fame. My memory of the event is like most twenty-year-old childhood memories: hazy and convoluted and disturbingly sexual. If I'm to be honest, I remember Jackson never actually entering the auditorium for security concerns, but who am I to argue with the Gay Lady1.
What I do remember though, is where I was sitting (roughly), that the kids I was sitting with weren't my close friends and that kind of annoyed me, singing "We are the World", and the short-circuiting current of excitement and terror2 that ran through the kids, and presumably the adults as well.
And it occurs to me now, though I could hardly know it at the time, that I was just about the age Michael was when he last had anything remotely resembling a normal life.
In the wake of his death, there is much talk of Jackson being the last great superstar, that his brand of fame, in the era of John & Kate and Spencer & Heidi and Pull The Trigger & The Nightmare Stops simply doesn't exist anymore. Fame is spread too thin these days. With so many legions of grubby, scrabbling little parasites, desperate to suckle at the teat of public attention, none can grow too fat.
There is also much talk of the cycles of abuse and how those played out in the life of arguably the most famous entertainer of our age. Which raises the question of whether it was his personal life and the domestic miseries it entailed or his unprecedented3 level of fame that led to his, well, downfall. These are all worthy questions, but ones we will never have adequate answers to.
I think the most interesting thing about Michael Jackson is how he was a decades long social experiment played out in human form. Only one who soared so high could plummet so low. I cannot imagine a more chilling cautionary tale. Fame is a curse and success the poison through which it acts.
Need further proof that success is the worst thing that can happen to a person, besides failure that is? Dane Cook was a promising young comedian with an exceptional sense of physicality in his act. Thousands of douchetards later and he's a washed up, apoplectic hack. Dave Chappelle struggled on the cusp of obscurity for years until he was finally given the platform he deserved. Now where is he?4
Of course, Jackson was not just famous or successful, he was beloved. In the first twenty or so years of his career, through his work, his position in history, musical and otherwise, he garnered as much good will as any non-magical human being ever could.5
But then as he declined in musical and cultural relevance, his madness, for what else to call it but madness, took greater hold. As thrilling6 and groundbreaking as his music was in the 80s it simply could not compete with the literal danger implied by the burgeoning rap scene. "I'm Bad. No, really, I'm quite Bad." doesn't have quite the same punch as "Fuck tha Police".7
And so, with little career to speak of keeping him occupied, he became more reclusive, more extravagant, more other. Elvis, by way of Howard Hughes.8
Then came the first child molestation trial with its $22m settlement.9 And the skin bleaching. And the continued sleepovers. And the botched plastic surgery. And the botched plastic surgery trying to correct the botched plastic surgery. And the second molestation trial with its not guilty verdict.10 And the Jesus Juice. And the marriages of, if not convenience, then almost certainly confusion. And the masks and pajama pants. And in a rare moment of genuine, well placed and yet horribly misdirected anger, the baby dangling.
He became a stranger. He was no longer one of us.
And just as he was poised to either make a triumphant comeback or secure his fixture as a permanent, cheap, late night punchline, his heart gave out.
His death was, like his life, to say the least bizarre. Certainly taking the world by surprise11, he honestly seemed too famous, too weird to ever die like one of us commoners.
Coming in the midst of, and overshadowing the rest of the celebrity genocide that took place that week, his death served to throw into relief a life that was too big to parse while it was ongoing.

If you strike us down, we shall become more powerful than you could possibly imagine.
In the end, a man died, but something else lived. Chris Onstad put it better than I ever could.
Personally, his death had no discernible effect on me until I actually listened to one of his earlier songs.
I heard the voice of a talented child forced to grow up well before his time and in that voice a promise of great and strange things to come. When you listen to him as a child you can't help but imagine the alternate paths his life could easily have taken12.
"King Of Pop Dead At 12…He had so much potential to blossom into a gracious and mature human being. As it is, the world will never know the genius Michael Jackson might have become had he grown up."
Not to write out of turn or presume to out Onion The Onion, but well, here you go.
JUNE

25, 2039 — Michael Jackson, 80, died today after a long battle with heart disease. He passed away surrounded by friends and family in his surprisingly modest Bel Air mansion.

After slumping record sales in the early 90's, Mr. Jackson faded gracefully from the public eye, only resurfacing to help produce the records of promising new singers and providing his signature baritone voice for the occasional commercial, most famously in his role as spokesman for Black Nose African American Beauty Supply.

He is survived by his sister Janet, his wife, Shondra Jackson, their three children, five grandchildren, and their beloved family dog, Blanket.
Jackson's rise and subsequent fall13 is at once tragic, mystifying and absurd. They say it's the mystery that endures, not the explanation. But, maybe there's no mystery to his life at all. Maybe this is simply what happens when someone is that celebrated14. The system always finds a way of correcting itself.
The auditorium as it stands today.15
I watch a lot of tv. It's basically my job. Like a lot of tv. So much in fact, that there are some shows I watch, not in spite of their awfulness, but because of it. But even I have my limits.
So, imagine my surprise when the other day, bored and twiddling my thumbs1, while a television show, whose purpose it is to entertain, finished downloading, I accidentally caught a few seconds of One Tree Hill.
Now, I'm not usually buying what religion is selling, but truly, this was a gift from Baal.
I tried half-heartedly to watch this show when it first aired, hoping it would fill the void left by Dawson's Creek, but I forgot to take into account that descended testicles could get in the way enjoying teen dramas. Plus, the show veered pretty quickly into over the top soap territory and not in a self-aware way like The O.C., so I stopped watching about the time the token Sexican family moved in and that fat kid shot up the school.
But now I see the error of my ways. That was all just laying down the groundwork to get to here.2 And as to whether the show is aware of it's own madness. Are any of us? Also, who gives a fuck?
First off, I think it prudent to prepare you, in as much as such a thing is possible. I wish I could take credit for the way this is edited, but all I did was cut down one scene or else this clip would've been 7 minutes long. I repeat, it was really edited this way. This was a sequence on a prime time one hour drama, broadcast on a national ≈network. Say goodbye to the person you are right now. In four minutes, they will be dead.
O M
FUCK
So much just happened. Can we review what just happened? Is this real life?
A gratuitous, cheesy music video intercut with Dawson fucking Leary as a lecherous director, a cartoonish Super Villain3 finally being felled by the mighty Golden Retriever, and a sassy black nurse. Oh, and The Sims.
Perfect.
These are some words I never thought I would put in this order: James Van der Beek, you're better than this. I know, because I've seen it with my own two eyes.4
Just to make me feel even better in my nougaty brain stem, I'm going to assume that there was some sort of Nokia™ sponsored Sunkist™ challenge to see who could chug more Sunkist™ than Pete Wentz, brought to you by Carl's Jr.™ and the prize was a walk-on role on One Tree Hill. The role? Do you need to ask?
Look closer though, and I think you'll see this is just brilliant subliminal advertising. This is in fact, the most powerful anti-marijuna campaign ever! In comparison, it becomes apparent all that Above the Influence shit was concieved and executed by ten-year-olds with learning disabilities (while high).
More visceral and compelling than even the most ambitiuous and epic anti-marijuana message, one which took five years to finally and fully pay off.

Um, guys, it's called foreshadowing.
White House Office of Public Liaison Associate Director my ass, the writing was on the wall. We know why Dr. Kutner tripped gentle into that good night.
Far more direct in pointing out the risks of recreational marijuana use than the previous gold standard in that department.
The message is pretty clear kids: if you smoke marijuana, you will DEVOUR a HUMAN HEART.
Also, this is a fairly compelling argument against dogs.

The eyes of a killer.
Just so you don't think this was some sort of wonderful fluke, this is how the episode ended. Again, furreals.
No! Don't turn off the computer! We'll all blink out of existence! Dooooooonnnnn….
I think I'm starting to understand all the complexities of this fascinating, multi-layered high school soap opera. This is some St. Elsewhere shit right here. One Tree Hill is just the fever dream of a little boy who one day grows up to be the Lawnmower Man, and eventually finds his way onto a mysterious island.5
Wait, no. I think I finally get it for real. It's basically like a crazy dark, nihilistic parody of Dawson's Creek. It takes all the premises and stereotypes cranked up to eleven and played out to their absurd, logical extremes. A highly subversive, unimaginably meta, Borgesian mindfuck, never once winking at the audience or tipping it's hand in seven years on the air. If you don't want to be anything other than the Abyss long enough, the Abyss doesn't want to be anything other than what you've been trying to be lately.
Just kidding. This was really all just a commercial for Scotch® Tape. Think about it.

You know what to do.
This may well be, as some have claimed, the "Second Golden Age of Television" bestowing serialized fiction with a level of public favor and attention it hasn't enjoyed since Dickens' day. But, just as China stands poised to pick up the burning embers of our economy, possibly for use in a fireworks display, Japan seems likely to inherit the mantle of cultural arbiters.
For all our Shakespearean HBO novels, we have nothing on this.

(via Michael Alan Nelson @ kung fu monkey)
Based on little else besides the fact that while Japan is responsible for some of the sickest, most depraved and most diverse1 pornography your feeble mind could ever fathom, they only recently got over their centuries-long hangup with pubic hair, it's safe to assume the land of the rising sun is one of contrasts.
There is still some speculation as to the reasons why.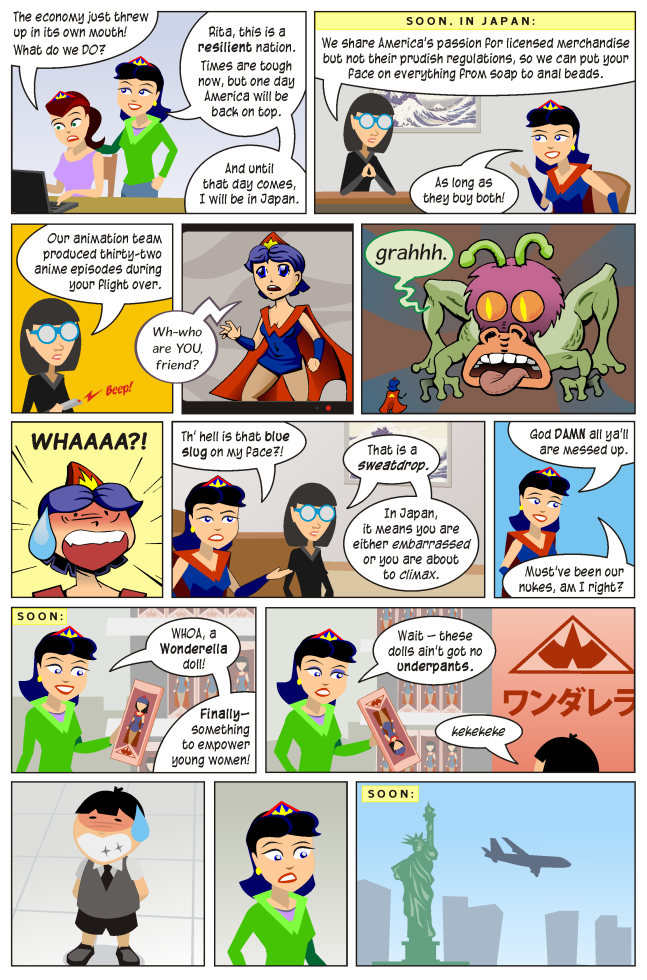 The Non-Adventures of Wonderlla
Assuming it was our nukes, it's possible there was at least one good thing to come out of it. Common among the Japanese and Chinese is a mutated gene that produces an enzyme necessary to metabolize alcohol. This mutation leads to a quick build up of an alcohol byproduct, meaning the onset of a "hangover" occurs after just one or two drinks.
This presents another contrast because, while depriving the nation of the joys of a magical elixir, which numbs you to the horror of modern existence at the small cost of some years off your life, a life which would hardly be worth living without your sweet, sweet medicine, it also shields them from the ravages of alcoholism.
But not an organized crime syndicate taking over their economy, 39-year-old men posing as little girls, eerie, lifelike little girl robots, little girls slitting each other's throats, a thunderdome-like island for little kids or a suicide forest.
You're welcome?
If you have a fetish, if no one else can help, and if you can live with yourself, maybe you can watch the Japanese do it on film. [↩]
What with so-called "dark" comics being all the rage, I thought I would show you some truly dark comics.
Fact: this is the perfect comic strip.
Everyone should just stop making comic strips now.
And finally we get to the elephant in the room. I still haven't seen Watchmen1, partly out of laziness and bad timing and partly due to my previous concerns, but if it's half as good as this, I have absolutely nothing to worry about.
Nope. I won't do it. [↩]

(via riotclitshave)

And then I go and spoil it all, by saying something stupid like faithfully.
In case you're not aware of the lunacy, Chief Justice Roberts misplaced an adverb and swapped a preposition while administering the oath of office last week. Surprisingly enough, Satan has not risen from the depths of hell ushering in an new era of unspeakable misery and despair. In fact, he's been looking rather sickly lately.
I followed this story with as much fascination and incredulity as the next guy, actually being surprised by the level of sanity present in most of the news coverage. Ignoring for a second that the sanest thing to do would have been to commit suicide on air after being told that this was a story that be should reported. I forget the anchor in question, but after the segment on this "scandal", he editorialized, saying basically that of course Barack Obama is President adding that the oath is not a spell from a Harry Potter novel. The comparison, while apt, is not pointed enough.
This is not magical thinking, this is religious thinking.1 Well, really this is just dangerous, antiquated, backwards thinking.2
The conceit of rule by divine right seems to die hard. I get it. If you believe in a god(s), it's tempting to think s/he/it/they approve of your choice in your leaders. So it's hard not to think of our presidents as kings. Frankly I think Barack Obama would make a pretty decent king, but this is not medieval Europe and John Roberts is not the Pope. Jesse Jackson is, however, still the Emperor of black people.
But it makes sense that there are plenty of people out there who think it's the oath and not the votes that make a (wo)man president. Well those people are in all kinds of luck.
You know what time it is kids?
Hypotetical Time!!!
Let's say I had access to hi-tech futuristic spy gear.
Right as Barack Obama took his last non-presidential leak, I ambush him and take his place. Masquerading as still President-elect Obama, and waiting until the oath is completed, I rip off my mask. Would I be president?
Remember, there's no love lost between Roberts and Obama. What if John had woken up that morning with a severe case of the fuck-its? Can the Chief Justice swear in like 50 people on Jan. 20 and they're all President? Could Congress be the President of the United States? Wouldn't that save some time? Could Roberts have sworn himself in? What if John McCain had slipped him a hundy earlier?
Alright children, hypothetical time is over, just bang your heads quietly on your desks.
The next day, knowing a vocal contingent of his new employers wouldn't shut up about this3, Obama and Roberts had a do-over. But, of course, something went wrong.
Gretchen Carlson is not sure if he's really the President. I'm not sure if Gretchen Carlson is really a carbon-based lifeform.4
So if Obama serves his term(s) and makes decisions and affects the world as President, in four or eight years, will he really have been the president if he didn't suck all the souls out of a middle eastern book of magic? Since he won't really have been the president, we can just open up that grimoire, say the appropriate spell, click our heels, and it will all go back to the way it was before, right?
Go ahead and keep doubting the legitimacy of the first African American president, a fact which I'm sure has no bearing on your newfound sense of civic duty. See what good it does you. Although, the more I think about it, the more sense it starts to make. After all, I heard Michelle was really holding a Qur'an. I mean it was Lincoln's Qur'an, but still. Fine, he's not really president.
You know who else wasn't really president?
You're not president because some guy in a wizard's robe says you are. You're president because we say you are.5
I know this story has pretty much blown over, but there are still people out there6 that will use this as justification for not only stoking their hatred for Pres. Obama and the "left", which was going to happen regardless, but also for checking out of the political process entirely. Now, don't get me wrong, there are plenty of reasons to check out of the political process entirely, but this is not one of them.
This is also indicative of a pointless preoccupation with words themselves, of people letting scratches on their cave walls get the best of them. I seem to recall a rather erudite fellow expounding on this somewhat recently.
We forget that if words are a form of magic, they derive their power from us. When we ignore this fact we do ourselves a great and dangerous disservice. When we let simple words and names get the better of us, they rob us, impoverish and weaken us in an already impossible world.

Words are just tools, "tools, of course, can be the subtlest of traps."

- Me
It's not getting any better.

(via videogum)
And then I go and spoil it all, by saying something stupid like barnacles.
Guh. This is just demeaning to pickles.
Words don't matter. Meanings matter. And until we can all beam our wi-fi thoughts about our latest matrix Kung Fu lesson directly into each other's brains, in lojban of course, that will remain the case.
Words can mean more than one thing. We don't always mean what we say. Context, body language and inflection can all alter our meanings.
THIS is the magic of language.
Never forget. They're just words people.
Women of Earth, put down those lattes this instant!
Men of Earth, the next time you see a woman drinking a macchiato, slap it out of her hands. She'll thank you for it later.
Drinking excessive amounts of coffee has been found to SHRINK YOUR BREASTS.
Further proof that Starbucks™ is an unbridled force for evil, no longer merely content with world domination, but bursting with schemes to curb human breeding habits thus keeping the population at a manageable low.

Sophia looks on with admiration at Jayne's resolve.
Marijuana may help combat memory loss. In other news, cigarettes eradicate lung cancer, visible herpes sores are highly attractive to the opposite sex and the only sure-fire cure for AIDS? Bareback anal gangbangs.
Now, if you'll excuse me, I think I'm going to go try to remember everything that ever happened in my childhood.
The most effective pick up line (as of yesterday): "Does this rag smell like chloroform to you?"
The most effective pick up line now and forever more: "Do my tits smell like chloroform to you?"

(via migthegreek.com)
Ladies and gentlemen, I present to you the men and women entrusted with our public safety.
Important Lesson #1: The next time you get high and start freaking out, think twice before you call the police. The responding officer might be tripping Schweddier balls than you. Plus, he has a gun.
Hey man, we've all been there. Trust me. But we're not all cops. Unless I've been wrong about who reads this site all along, and it's not eight desperate friends with nothing better to do, but eight L.A.P.D. officers on their lunch break, possibly while stoned.
I know police offices are not fully trained EMTs and as such do not have the breadth of medical knowledge one might hope for, and of course, I realize the paranoia inducing effects of marijuana, but it's important to keep the following in mind:
It has been estimated that a person would have to smoke a hundred pounds of marijuana a minute for fifteen minutes in order to induce a lethal response.
Have anything else to say on the matter? Just leave me a note.
What's that? Am I forgetting something? Oh, right. Sorry, I'm a little out of it.
Important Lesson #2: Cops have the best fucking weed.
An elderly supporter at a McCain rally:
Quinell: Obama is an Arab.
McCain: No ma'am, [Obama's] a decent family man, citizen, that I just happen to have disagreements with on fundamental issues.
Me: So, obviously not an A-rab.
An interview with said supporter:
Reporter: His father was Muslim, and he's a Christian.
Quinnell: Yeah, but he's still got Muslim in him. So that's still part of him. I got all the stuff from the library and I could send you all kinds of stuff on him.
Me: Whoever's handing out those flyers is doing a fucking amazing job.
In an alternate, slightly more plausible universe:
Reporter: His mother was white and he's biracial.
Black people: Yeah, but he's still got White in him. So that's still part of him. I got all the stuff from the library and I could send you all kinds of stuff. Pretty much the entire History section is just century after century of unspeakable atrocities committed by his ancestors, so you can understand our reluctance.